Don't we all dream in having a gorgeous, unique, super stylish house with lots of personality? The best way to add style to our house is by personalizing our furniture, and reupholstering an old piece is one of the easiest. Check out these easy and cool ideas that will make reupholstering your next project!
http://domino.com/lulu-frost-lisa-salzer
Find New Pieces To Work On
Take a look around the house: you may already have a few pieces that can benefit from a new upholstery job. An old chair, a stained couch, a ripped daddy's chair… It can even be a set of furniture that doesn't go well with the rest of the decor and deserves a fresh look. If you don't have any pieces to work on, you can even go to flea markets or second-hand stores and find unique and gorgeous pieces that deserves a little bit of attention.
Analyze The Space
http://blog.faiella-design.com/?p=5429
If you you want your reupholstered piece to be the center of attention, it's good to analyze the room it will sit and the wall painting colors as well. Is the room bright? What is the color scheme? Are there too much "information" on the room (different colors, style, pieces) or is it more minimalistic? If the room is more clean and modern, a carved antique chair in a traditional floral would be the perfect focal point. If the room has a more traditional look, going for simple lines along with electric colors or modern patterns may be the perfect contrast it needs.
Follow The Lines
http://www.designsponge.com/2009/10/sneak-peek-whimsy-spice.html
Decided on the right piece of furniture that you will reupholster, you have to think on how to make it feel connected and harmonious. For the fabric and frame to work together, you have to take a good look at the frame of piece. If the frame involves angled legs and curved back(in the case of chair), a fabric that has S curves or that follows the angles may be the right choice. If the frame is more simple with straight lines, you can try going for geometric or striped patterns to make the piece feel harmonious.
Choosing The Fabric
https://www.periodliving.co.uk/design/prairie-chic-decorating-inspiration/
If the reinvented piece will sit on the children's room, maybe it's best to choose a fabric that doesn't stain or rip so easily. If it won't be used that often or if it would mostly be for decoration, you can go for more delicate fabrics. You can also play with different textures like leather, velvet or even faux fur, depending on what will you use the piece. Analyze what will be the purpose of the project and choose the fabric accordingly.
Connect With The Room
http://carolinececiltextiles.com/la-mode-textile-shibori/
Along with making the chair the center of the attention and making the fabric harmonious with the frame, you can also connect the piece with the room it will sit. Following the same color scheme that room does is a great idea, or you can use the same fabric on the curtains or on the couch pillows, for example, to create a connection between the reinvented piece with the rest of the furniture.
Follow Your Style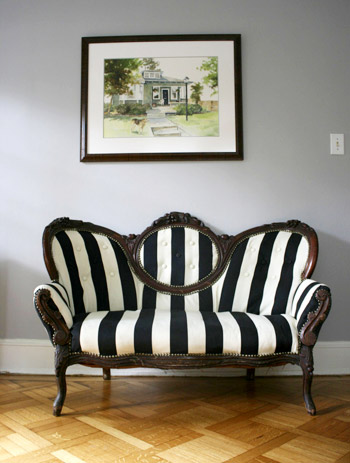 http://www.younghouselove.com/2011/10/reader-redesign-lovely-loveseat/
A reupholstery project is fun from start to end, so avoid making it stressful and don't follow advices that you don't agree on. If you're keen on using a certain fabric that may not fit: don't be afraid to go for it. Make the process fun and easy, choose what fits your style and shows your personality, and make the project something that you will be proud of.
Article written by Isadora Guidoni, also a writer for homeyou.com, where you can find reliable and professional contractors for any home improvement project you need. Check more on Facebook, Instagram, Pinterest and Twitter.